August 25, 2016 in Manuscript Studies, Seminars on Manuscript Evidence
"Sixteenth-Century Transcripts of Anglo-Saxon Texts"
In the Series of Seminars on the Evidence of Manuscripts
The Parker Library, Corpus Christi College, Cambridge
(12 October 1991)
Invitation in pdf.
The previous Seminar in the series considered
"Technical Literature and its Form and Layout in Early Medieval Manuscripts"
Parker Library, July 1991
(A Workshop on "The Production, Make-Up and Handling of Medieval Manuscripts"
intervened on 5 October 1991.)
An earlier Seminar considered a related theme:
"Sixteenth-Century Interventions in Anglo-Saxon and Related Manuscripts"
Parker Library, April 1990
*****
The Invitation explains the plan, reports the speakers and their subjects, invites discussion from the participants, and sets out a provisional list of manuscripts available for consultation.
The subject will be:  sixteenth-century transcripts of Anglo-Saxon texts.  Those of us engaged in editing Anglo-Saxon texts find them an important source for our subject.  They appear within a number of manuscripts at the Parker Library, in the hands of Matthew Parker, others within his circle and other scholars and antiquaries.
Simon Keynes will speak about his examination of the manuscript transmission of Asser's Life of King Alfred.
Patrick Wormald will address the patterns of transmission and recovery of vernacular legal texts.
We hope that other members of the seminar will contribute to the discussion from their own experience with sixteenth-century or Anglo-Saxon sources.
As for the original sources, "manuscripts will be available for examination as a focus for discussion."   Among them:
"Other manuscripts may also emerge as they occur to us in the course of the session."
Invitations sent to:
David Wilson, Mildred Budny, Christine Fell, R.I. Page, Patrick Wormald, Simon Keynes, Tim Graham, Leslie French, Patrick Collinson, Nigel Wilkins, Catherine Hall, Della Hooke, Robin Alsten, Nigel Ramsay, Bill Stoneman, Malcolm Godden, Stuart Lee, and Nicholas Vincent.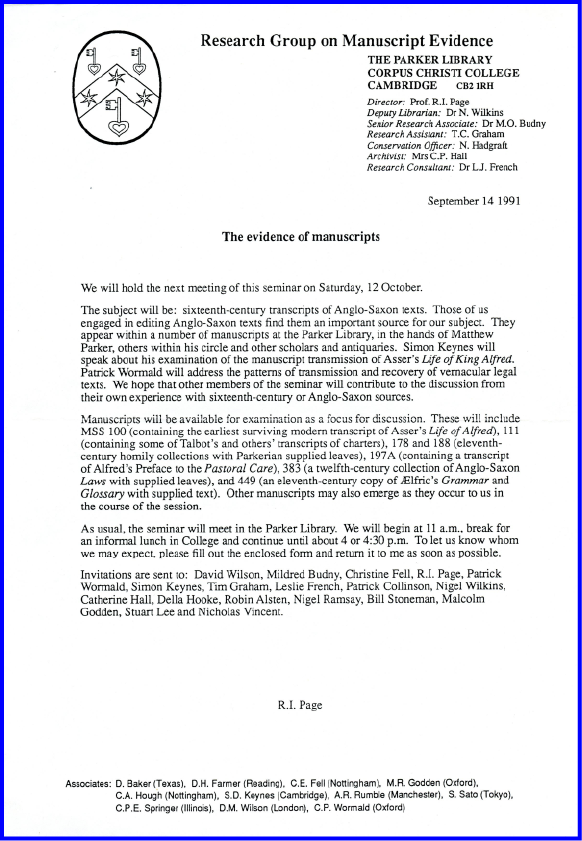 *****
The next Seminar in the Series considered
A later Seminar considered a related theme:
"King Alfred and His Legacy"
Faculty of English, University of Oxford, April 1994
*****