Examples of Our Font
in Multiple Languages
[Posted on 12 March 2018, with updates on 3 June 2018]
We offer a new booklet for our multi-lingual digital font Bembino, to stand alongside the "Bembino" Booklet which describes and illustrates the font.  That booklet and the font itself (now in Version 1.5) are available for FREE on our Bembino.
With our update [3 June 2018], we launch this new booklet in a new version (let's call it Version 1.1), now including a specimen in Old Norse, as requested by our Associate Robert Bjork at the 2018 Congress.
See the 2018 International Congress On Manuscript Studies Report. We respond readily to requests (see below)
The Examples in a Booklet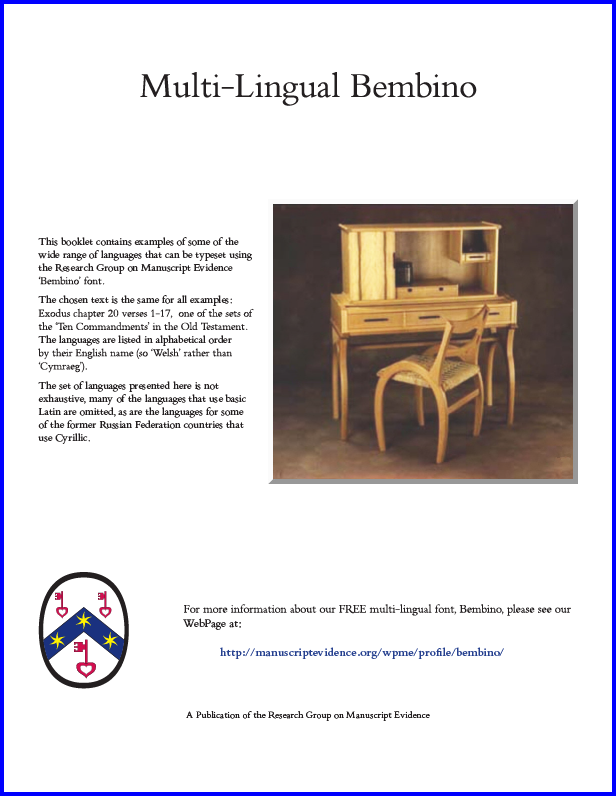 As described on its front cover,
This booklet contains examples of some of the wide range of languages that can be typeset using the Research Group on Manuscript Evidence 'Bembino' font.
The chosen text is the same for all examples: Exodus chapter 20 verses 1–17, one of the sets of the 'Ten Commandments' in the Old Testament.
The languages are listed in alphabetical order by their English name (so 'Welsh' rather than 'Cymraeg').
The set of languages presented here is not exhaustive. Many of the languages that use basic Latin are omitted, as are the languages for some of the former Russian Federation countries that use Cyrillic.
The Specimen Text
The chosen text displays: Exodus chapter 20 verses 1–17, one of the sets of the 'Ten Commandments' in the Old Testament.
A venerable full-page illustration of the 2-tiered reception and distribution of the Ten Commandments appears in one of the large-format Latin Vulgate Bibles produced at the Abbey of Saint Martin of Tours during the time of its Anglo-Saxon Abbot Alcuin. This manuscript, now in Paris, appears online in full facsimile here.
The Examples Exhibited
The booklet displays the selected passage of text for these languages so far:
Afrikaans
Albanian
Amharic
Arabic
Armenian
Azeri
Belarussian
Breton
Bulgarian
Catalan
Chinese (Simplified)
Chinese (Traditional)
Chinese (Pinyin)
Croatian
Czech
Danish
Dutch
English
Esperanto
Ethiopic
Farsi
Finnish
French
Gaelic (Scots)
German (Fraktur)
German (Modern)
Greek (Ancient)
Greek (Modern)
Hebrew
Hungarian
Icelandic
Irish
Italian
Japanese
French
Kazak
Latin
Lithuanian
Macedonian
Maltese
Norwegian
Old English
Old Norse
Polish
Portuguese
Romanian
Russian
Serbian (Cyrillic)
Serbian (Latin)
Spanish
Swahili
Swedish
Thai
Turkish
Ukranian
Welsh
Yoruba
For example, Page 3 of the Booklet displays specimens from 3 languages.
Similarly, page 16 displays 3 languages.
The Booklet
You can view and download the Booklet here:
"Multi-Lingual Bembino" (Princeton: Research Group on Manuscript Evidence, 2018), available in pdf in two formats:
*****
Would you like to see specimens from other languages?
Please Contact Us with your questions and suggestions.
*****