Photography in Practice, on Display, and for Study
Photography is an important part of the work and practice of the Research Group on Manuscript Evidence.  From the start, our activities have included photography as part of the work of recording, analyzing, and communicating the evidence of manuscripts and other sources.
Exhibitions of Our Photographs
Since 1990, often as part of its Seminars, Workshops, Conference Sessions, and other Events, the Research Group has held photographic exhibitions on Anglo-Saxon and related manuscripts at Corpus Christi College, Cambridge; the University of Oxford; and elsewhere.  At first, the photographic work focused upon Anglo-Saxon and related manuscripts, as part of the research project at the Parker Library of Corpus Christi College, from which the Research Group emerged.
As the focus of research expanded afterward, the work extended to a wider range of manuscripts, documents, early printed materials, archives (including photographs), and other media. Mostly using photographs by Mildred Budny, the exhibitions include:
"The Integrated Approach to Manuscript Studies", held with variations at the University of Tokyo at Komaba, at Chuo University, Tokyo, and at Aoyama Gakuin University, Tokyo (November and December 1992)
"The Integrated Approach to Manuscript Studies", held with further variations twice at Western Michigan University, Kalamazoo, at the International Congress on Medieval Studies (May 1993 and May 1994). These exhibitions formed part of the contributions by the Research Group on Manuscript Evidence and its Director to the Congress, as reported for our sponsored Sessions at the 28th International Congress on Medieval Studies and 29th International Congress on Medieval Studies. The 1994 exhibition was designed to celebrate the opening of the new Richard Rawlinson Center for Anglo-Saxon Studies, under the new Directorship of Mildred Budny (as then under contract).  The current activities of that Center are reported here:  About Us.
"The Monastic Library:  Books from St. Augustine's Abbey, Canterbury", held at Wilson College, Princeton University (March 1995)
The first travelling exhibition by the Research Group on Manuscript Evidence of photographs from manuscripts and other materials at Corpus Christi College and elsewhere took place at the first meeting to be held in Oxford of the Series of Seminars on "The Evidence of Manuscripts".  That meeting, devoted to "Research on Anglo-Saxon Manuscripts in Cambridge and Oxford", was held on 20 June 1992 at Pembroke College at the invitation of our Associate Malcolm Godden.  That practice set the stage, and a template, for the subjects, contents, design, and layout of the Research Group's photographic exhibitions in Japan and the United States over the next several years.
The New Series of Seminars, Workshops, Colloquia & Symposia of the Research Group sometimes exhibits photographs of source materials, as well as examples of posters from our events, both present and past.
*****
Master Classes
Since 2006, invited Master Classes taught by Mildred Budny, in Princeton and elsewhere, have provided instruction on aspects and techniques of responsibly photographing manuscripts, documents, and works of art for purposes of research, preservation, exhibition, and publication.  Some of these classes accompany, and augment, our continuing work on Genealogies & Archives.
*****
Publications
Our  Publications and co-publications include photographs of the manuscripts themselves and related materials (many or mostly by Mildred Budny).  Some publications contain so generous a number of photographs as to constitute a form of exhibition, as with the two-volume illustrated Catalogue of Insular, Anglo-Saxon, and Early Anglo-Norman Manuscript Art at Corpus Christi College, Cambridge.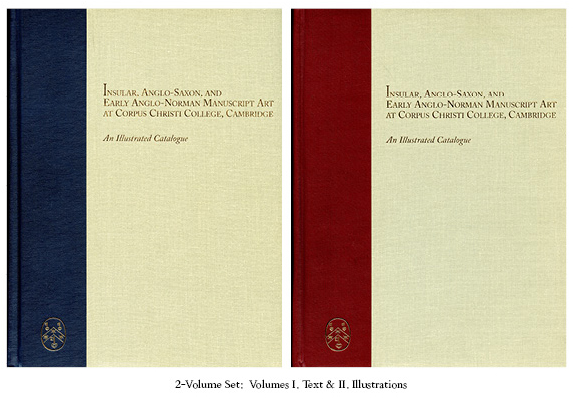 Now that the distribution of this publication has been transferred to the Research Group on Manuscript Evidence (2015–2016), it is available with a Promotional Offer.
While the world in recent years has turned widespread and extensively funded attention to the production, proliferation, and presentation of digital images reproducing manuscripts for online exhibition, the photographic work of the Research Group on Manuscript Evidence in its foundational collaborative and integrated study of manuscripts, both before and after the dawn of the Digital Age, represents a concerted response, within 'limited means', to seek to co-ordinate scholarly examination and expertise with approaches to representation and reproduction for reflective analysis.
*****
Photography in the Digital Age
In August 2008, in exploring new developments and potential for our first website (launched in 2007 as www.manuscriptevidence.org and renamed, during the transition to our new site, as www.manuscriptevidence.org/data/), we were granted generous permission to photograph a group of medieval manuscript fragments and documents in private hands, and to publish these images here, once the upgraded website allowed.
Until the upgrade of our website in 2014 enabled the online presentation of our images, we depended on the Research Group's official FaceBook Page for this feature:  Research Group on Manuscript Evidence.  That Page continues to showcase our events and activities, along with those of others, illustrations often included.
With this upgraded version of our website, we can now show specimens.  There now appear series of Galleries, accessible on the top line of our Menu. For example, they include series of Scripts on Parade" (from a different private collection) and Posters on Display.
So, too, begins the series of Blogposts on Manuscript Studies, starting with The Mass of Saint Gregory, Illustrated, and building from there.
One of the Blogposts takes a light-hearted look at the Photo-Opportunities of Manuscript Portraits, Group Portraits included: Manuscript Groupies.
*****
The photography is designed to show the whole objects, as well as details. We invite, conduct, and report research on these materials.  With their accompanying descriptions and assessments, the display may constitute a virtual exhibition.
We welcome questions or comments about the images.  We hope that exhibiting them in this way will promote fuller knowledge of their nature, context, significance, and relatives. We may also use this opportunity to discuss suitable techniques of photographing manuscripts and other artifacts responsibly, with respect to the directions of scholarly interests as well as curatorial and conservation concerns.
Not always do these interests and concerns need to stand at odds with or against each other, especially with communication and collaboration.  Such discussion may function, for example, as form of a tip-sheet or masterclass.
*****
Manuscripts Versus Photography
As part of this process, we continue to present results and to discuss the issues involved in photographic recording of manuscript and related materials.  These discussions occur in various settings, proceeding one from another.
A Round Table on The Practical Uses of Manuscripts in Research and Teaching (2010)
Friday, 19 March 2010 at Yale University, New Haven.
In March 2010, Mildred Budny joined the panel for the Graduate Student Committee Session organized and chaired by Andrew Kraebel (Yale University) at the 2010 Meeting of the Medieval Academy of America at Yale University.  The other panelists were
Consuelo W. Dutschke (Columbia University)
Martin Foys (Drew University), and
Fiona Somerset (Duke University).
The topics under discussion included photographic and related work of the Research Group, with some recent discoveries.
Information about this Annual Meeting of the Medieval Academy of America appears on its website: www.yale.edu/medieval/maa2010/.
A Lecture (2010)
By request, this presentation was expanded into a full lecture at Princeton University:  web.princeton.edu/sites/medieval/calendar_f10.html, with its accompanying Poster.
We thank the owners of the image and of the photograph for permission for reproduction on the poster and also, now, on this website.
*****
"Show & Tell" Seminar (2014)
In December 2014, we held a Seminar at the Index of Christian Art at Princeton University on "Show & Tell:  Manuscripts & Their Photographs".
*****
Illustrated Handlist of Medieval and Early Printed Materials by Mildred Budny (2014–)
An illustrated report reflecting upon one of the manuscript fragments undergoing research, conservation, and photography appears here.  More such reports are underway.
*****
These posts show photographs by Mildred Budny and/or by others, including our Associates.
*****
Style Manifesto (2015 Version)
The 2015 revised version of the Style Manifesto of the Research Group on Manuscript Evidence illustrates its section on the "Reproduction of Photographs" (pages 3–4) with an exemplary pair of manuscript photographs by Mildred Budny, showing 'Two views of the same page, unretouched, with the same lighting, but with different backgrounds. The perceived differences are apparent, while the color guide remains unchanged'. The 2015 Version can be downloaded here.
*****
More to come.
[First published on our first website on 19 April 2006, with updates there and here]