Promotional Offer
for
The Illustrated Catalogue of
Insular, Anglo-Saxon, and Early Anglo-Norman Art

Besides the Contributions & Donations to our nonprofit educational corporation, which may be tax-deductible, here we offer the opportunity to purchase some selected publications.  Developments allow us to start with our largest publication so far, as its distribution has passed into our care.  This step creates an exceptional opportunity.
Publications & Distribution
Most of our Publications and Co-Publications are distributed free-of-charge, in print and/or online, as part of our concerted program of disseminating information, research results, announcements of events, reports of their programs, and other materials.
Almost all our publications, from the very beginning of our history, are the fruit — often completely — of our in-house design and layout.  Some carry the first, monochrome, design of our logo (left); others the more recent color version (right), designed in honor of the move of our base to the United States.  Many are illustrated with images donated by various sources, and reproduced by permission. The designs follow, and embody, the principles of the Research Group's Style Manifesto in its evolution over time, hand in hand with our Publications.
The design, development, launch, and updates over the years for our copyright multilingual font Bembino (available freely on this site for download and use) have provided a flexible resource for our layout.  The font appears before your eyes on this updated version of our official website.  This website, moreover, serves as a repository for an increasing number of our publications, as they appear on these pages and, frequently, become available for download as pages, booklets, and more.  We continue to expand the dissemination of our publications, as they also grow.
1. A New Page
The Illustrated Catalogue

Insular, Anglo-Saxon, and Early Anglo-Norman Manuscript Art
at Corpus Christi College, Cambridge

An Illustrated Catalogue
by Mildred Budny
also with Photography by Mildred Budny
2-volume set (1997)
Volume 1. Text — Volume 2. Ilustrations
ISBN 1-879288-87-7
A new page in our history arrives, with the opportunity to create a Promotional Offer for our largest co-publication so far. Here you see the front covers of each volume, including our Research Group logo as co-publisher, stamped in gold at the lower left.
You may be familiar with it already, but perhaps hesitated on account of its original $300.00 price for the 2-volume set.  Even the occasional discount offers by the publisher at $240 for the set may have seemed steep for many would-be readers and owners.
Now the time has come when you might more easily reach for your very own copy, and/or a copy which you might wish to present to someone you know or to an institution you wish to encourage.
With a change in direction, the publisher, Medieval Institute Publications of Western Michigan University, has decided to transfer the distribution of the volumes into the care of the Research Group on Manuscript Evidence.  We have agreed to take on that responsibility, and to approach the distribution in harmony with our nonprofit educational mission.
Because the Research Group on Manuscript Evidence does not have many of the overheads of standard publishing firms, while needing to cover certain costs (such as the shipping from the Michigan publisher's warehouse to Princeton), we can offer an attractive price.  We have also had several requests for ordering more than one copy, expressly for the purpose of gifting as well as keeping, and so we respond accordingly with special pricing.
This new approach may bring the volumes within the reach of scholars, teachers, institutions, and others who have an interest in its subjects.  The materials, and the research results, can illuminate the fields of manuscript studies, illuminated medieval manuscripts, the history of design and layout (medieval and modern alike), library history, the history of collecting, and the fascinating perennial habits of adding marginalia to books — sketches and scribbles included.  Many beautiful and fanciful images enliven these pages.
(P.S.  The text of the catalogue has some jokes, too, according with the spirited sense of its author, who loves looking at manuscript and books.  You might recognize the style from some of her posts on our Research Group Facebook Page . . . . )
Design and Layout:
Integrating Form and Function
In the 2-volume design, the very many illustrations, reproducing photographs expressly taken for this publication, may be examined side-by-side with the textual commentary and descriptions.  The layout of the text, designed and completed by the Research Group on Manuscript Evidence, corresponds with its Style Manifesto, in the years before the creation of Bembino.
The Illustrated Catalogue represents a landmark in the evolution of our design for publications.  It does so not least because it employs some special characters (such as for Old English, Middle English, and Greek) commissioned expressly for the purpose, to augment and complement the chosen font Adobe Garamond  — the official font of the Research Group before the development of Bembino, with its very many more 'special' characters and more languages to support.
In its approach to layout, the Illustrated Catalogue manifests the practices specified in the then-current state of the Style Manifesto, as represented by its now-downloadable version of October 1999. (The present version of 2015 is also downloadable for comparison.)
The Illustrated Catalogue is a significant stepping-stone in this unfolding journey.  The continued steps are manifested, for example, in our Galleries of Posters on Display and Layout Designs.
The Many Illustrations,
Photographed for This Publication
The production and publication of these volumes preceded the emergence of the internet and the preparation of digital facsimiles of manuscripts. Here, however, it is possible to view a generous span of photographs illustrating the selected pages of numerous books, and without a costly pay-wall as the high price of admission. Also, the photographs show some aspects not visible in the online digital facsimiles.
The catalogue entries — with descriptions, analysis, and reports of cumulative and collaborative research results from the major 7-year Research Project at the Parker Library of Corpus Christi College (designed in part by our Director, Mildred Budny, then as the Senior Research Associate at the Library) — remain pertinent for study.
Altogether, including a section of color plates and the frontispieces to each volume, the plates show nearly 800 pages from the manuscripts, and mostly they show the full present extent of the pages, such as history has allowed to remain.  As always, the Research Group on Manuscript Evidence considers, where possible, the full range of the extant evidence.  The Illustrated Catalogue contributes to this aim, as it sets out the integrated approach upon which the Research Group has continued to build in practice.  Our website documents and showcases these foundations and their unfolding developments.
The Methodological Introduction
So, too, the substantial Introduction to the Illustrated Catalogue stands the tests of time. It surveys and defines both 'The Scope and Structure of the Catalogue' (Volume I, pages xxxiii–civ) in a series of sections setting forth the principles and practices selected for the preparation of the catalogue, as well as introducing the nature of the materials under examination.
The outline of those sections shows their range and breadth.
I.  The Scope
I.1.  The Manuscripts and Their Range
I.2.  Makers, Donors, Owners, and Annotators
(Medieval; Early Modern and Modern)
I.3.  The Bindings
I.4.  The Manuscripts and Their Contents
(Texts and Accompaniments; Layout and Scripts; Decoration and Illustration)
2.  The Structure
2.1.  The Order of the Entries
2.2.  The Entries
(Heading; Number, Character, and Size of Leaves; Type of Book;
Language, Layout, Script, and Art;
Date, Place of Origin, and Provenance; Binding and Condition;
Bibliographical References; Contents;
Inventory of Decoration and Illustration)
2.3.  Works Cited and Suggestions for Further Reading
2.4.  Index of Manuscripts
2.5.  Plates
3.  The Ensemble
We quote (page civ):
'The presentation of the catalogue and plates in two volumes is designed to enable the reader to examine the plates and their commentary as directly as possible.  The many plates, showing whole pages or openings from the manuscripts, seek to convey a sense of encountering the books themselves, turning their pages, discovering their hidden secrets as the course of the text and images unfolds, and returning to refresh acquaintance with them.
'The illustrated catalogue aims to offer a glimpse into the wealth and range of materials preserved at Corpus Christi College from the early modern period.  Its corpus of Insular, Anglo-Saxon, and Early Anglo-Norman manuscript art provides remarkable and wide-ranging evidence for the production, embellishment, and use of books during a series of formative and innovative periods in the art of the British Isles.  While the manuscripts might not move from their present place of safe-keeping — and while very few outside readers have the3 chance of extended, in-depth examination of the whole group as well as its relatives over numerous years, guided by an intensive, integrated approach bridging very many different disciplines — nevertheless the images reproduced here from the manuscripts, accompanied by their introductions, descriptions, and evaluations in the catalogue entries, might bring detailed knowledge of their legacy to a much wider world'.
Prescient, Perhaps?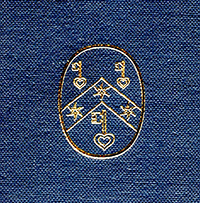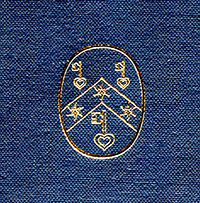 In the years following this publication, many forms of dedicated work on these manuscripts, related manuscripts, manuscripts overall, the transmission of the various texts, the phenomena of marginalia in books, library history, and the fields of palaeography, codicology, musicology, textual studies, art history, and other subjects, have contributed significantly to the knowledge of the materials and the complexities of their evidence.  The Illustrated Catalogue represents a special stage in the progress of such quests.  It merits a continuing place in the pursuit of increased understanding of the materials themselves, their context, and the development of our collective approaches to knowledge of these and other fields of study.
2. How To Order
We invite you to order copies of this major publication with our new Promotional Offer.
In contrast to the original publisher's price of $300 US, the price is now $97 per 2-volume set, or $92 per set for more than 1 copy.  It ships in its original packing box, brand-new, with each volume protected in its original shrink-wrapping.  Gift wrapping is an available option.
For convenience, you may order your copy
by check or
online here by PayPal and credit card.
The Promotional Order Form gives details.
We encourage you to add an optional Donation, which may be tax-deductible.  The Donation may easily be included on that Order Form, or offered online here.
Buy Here & Now
1. Ordering By Check and Online
With the Order Form, please send payments by check to:
Research Group on Manuscript Evidence
46 Snowden Lane, Princeton, New Jersey 08540-3916, U.S.A.
To let us know your special instructions for the orders which you can make online here through PayPal, for example to request gift wrapping or receipts, please indicate them in the 'Instructions' box during checkout and/or Contact us directly via accounting@manuscriptevidence.org.
For deliveries outside the United States, please Contact accounting@manuscriptevidence.org.
2. Ordering Online Here
The options here for ordering through PayPal and by credit card allow you to choose either
1 set (Option 1) or
2 sets as a unit at a reduced price (Option 2).
New Jersey Sales Tax is applicable to deliveries within New Jersey.  If you are a tax-exempt organization within New Jersey, use the option especially for you below (Option 3).
Option 1


1 Set @ $97
Choose Add to Cart below and Click through to Checkout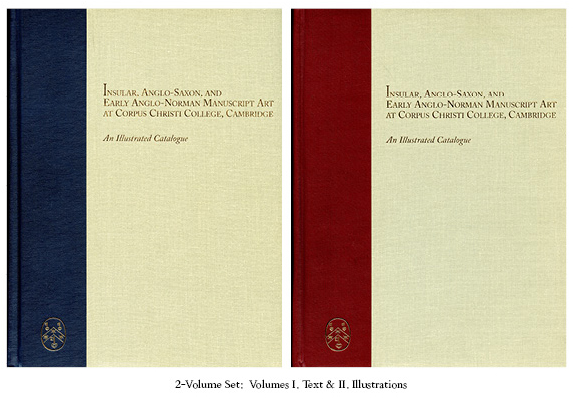 Insular, Anglo-Saxon, and Early Anglo-Norman Manuscript Art at Corpus Christi College, Cambridge
(2-volume set with Text and Illustrations)
Option 2


2 Sets @$92 per set = $184
Choose Add to Cart below and Click through to Checkout
Insular, Anglo-Saxon, and Early Anglo-Norman Manuscript Art at Corpus Christi College, Cambridge
(2-volume set with Text and Illustrations) 2 sets
3. Tax-Exempt Purchases within New Jersey
Option 3


1 Set @ $97 without New Jersey sales tax
For deliveries to tax-exempt organizations within New Jersey

For eligible tax-exempt purchases in New Jersey, please place your order here. We may request confirmation of the purchaser's tax-exempt status.

If you wish, we will supply you with an official Receipt of Purchase with tax-exemption for your organization. For questions and assistance, please contact accounting@manuscriptevidence.org.

Insular, Anglo-Saxon, and Early Anglo-Norman Manuscript Art
at Corpus Christi College, Cambridge
(2-volume set with Text and Illustrations)
Thanks!
Thank you for your order.
*****
4. Donations, which may be Tax-Deductible
You may make Donations easily online here or here.  The new Donation Form also has space to indicate Donations in Kind of various kinds.
You can indicate the purpose(s) for which you wish to direct the funds, such as for General Purposes, Events & Program Activities, Research Programs, or something else.  You might wish to designate your donation as a Tribute, in honor or in memory of someone.  You could make Recurring Donations, set forth in increments.  The flexible options allow for your choices and refinements.
For questions, suggestions, and further information, please contact our Treasurer or Director.
We thank you for your support.



*****